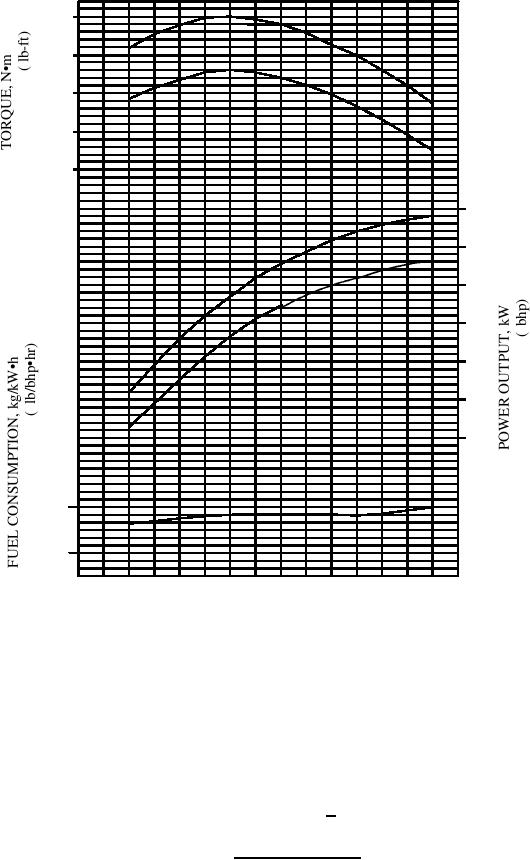 MIL-DTL-62462D(AT)
949
MAXIMUM
(700)
881
(650)
814
(600)
746
CONTINUOUS
(550)
678
(500)
MAXIMUM
224
(300)
205
(275)
186
(250)
CONTINUOUS
168
(225)
149
(200)
130
(175)
112
(150)
MAXIMUM
.243
(.400)
.213
(.350)
140
160
180
200
220
240
260
ENGINE SPEED, rpm
NOTES:
1. All data is based on the engine operating with fuel system, water pump, lubricating oil
pump, air cleaner, and muffler; not included are alternator, compressor, fan, optional
equipment and driven components.
2. Curves shown above represent engine performance capabilities at SAE J1349 conditions of
150 meter (m) (500 feet (ft)) altitude [98.21 kilopascals (kPa) (29 inches mercury (in. Hg))
dry barometer], 29 degrees Celsius (°C) [85 degrees Fahrenheit (°F) air intake temperature,
and 1.29 kPa (0.38 in. Hg) water vapor pressure with No. 2 diesel fuel.
3. Maximum performance curves are nominal within a +5% tolerance band.
FIGURE 1. Performance data.
6
For Parts Inquires submit RFQ to
Parts Hangar, Inc.
© Copyright 2015 Integrated Publishing, Inc.
A Service Disabled Veteran Owned Small Business