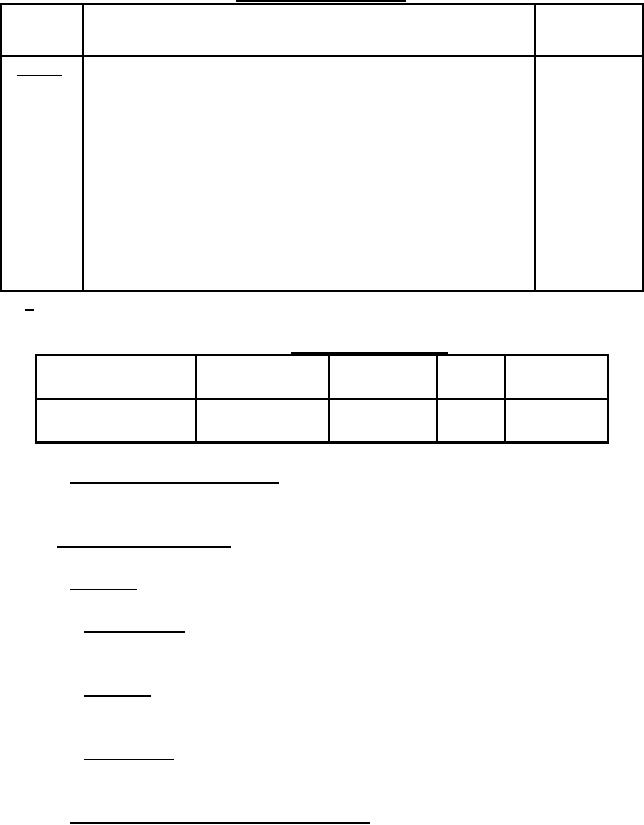 MIL-DTL-62462D(AT)
TABLE II. Classification of defects - Continued.
Method of
examination
Category
Defect
Minor:
201
Fuel lines: damaged, rubbing, improper support.
Visual
202
Oil dipstick gage: missing.
Visual
203
Oil level: overfilled, below safe operating level.
Visual
204
Bolt on components loose; nuts or bolts missing, heads
Visual and
rounded or deformed.
tactile
205
Threaded holes: incorrect size, improper depth.
SIE
206
Identification, instruction, data, and name plates: missing
Visual
or incorrect.
207
Painting: sags, runs, inadequate or improper coverage,
Visual
paint in threaded holes.
1/ SIE = Standard Inspection Equipment.
TABLE III. Classification of tests.
First
Acceptance
Title
Requirement
Inspection
article
(100%)
Leakage
3.3.3
4.5.1
X
X
Environmental
3.3.4
4.5.2
X
4.3.3 First article inspection failure. Failure of any first article sample to pass specified
examinations or tests shall be cause for rejection.
4.4 Conformance inspection. Conformance inspections are classified as acceptance tests.
4.4.1 Sampling.
4.4.1.1 Lot formation. An inspection lot shall consist of all the diesel engines from an
identifiable production period, from one manufacturer, submitted at one time for acceptance.
4.4.1.2 Sampling. Samples for conformance inspection shall be selected in accordance
with general inspection level II of ANSI Z1.4.
4.4.1.3 Examination. For examination purposes, defects shall be classified as listed in
table II.
4.4.2 Acceptance tests (100 percent inspection). Each engine assembly shall be subjected
to examination for major defects 110 through 113, 117 through 120, and 123 listed in table II and
the tests specified in table III.
11
For Parts Inquires submit RFQ to
Parts Hangar, Inc.
© Copyright 2015 Integrated Publishing, Inc.
A Service Disabled Veteran Owned Small Business