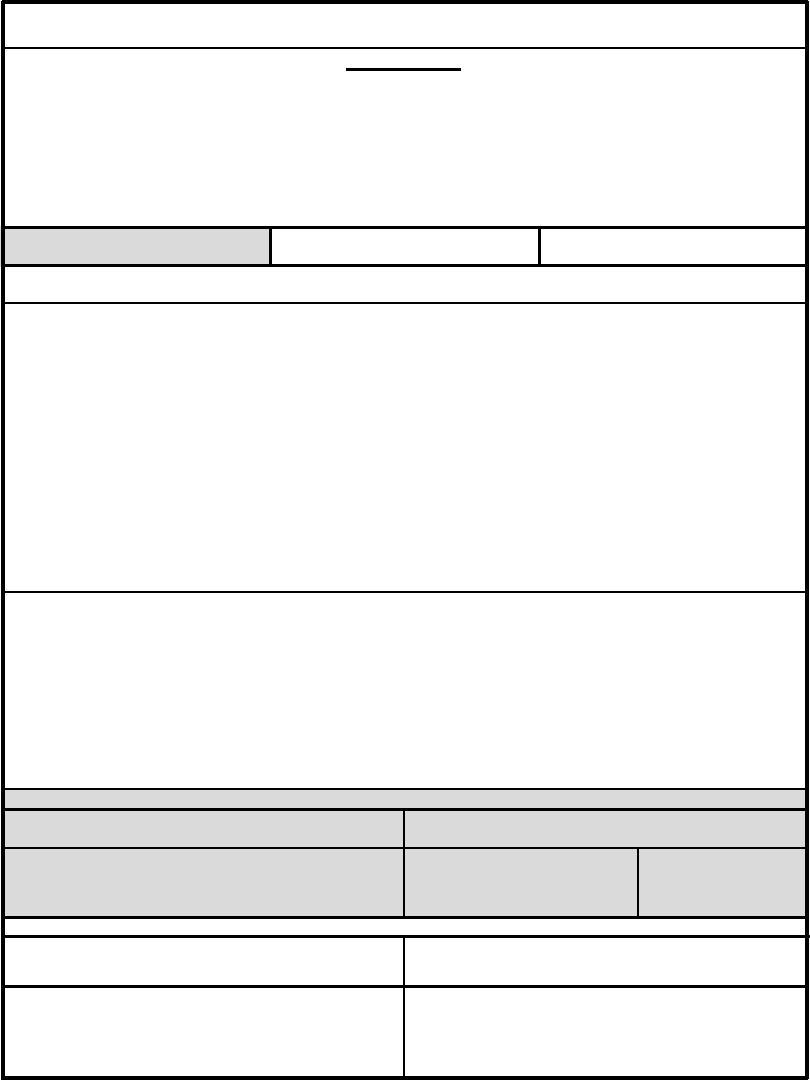 STANDARDIZATION DOCUMENT IMPROVEMENT PROPOSAL
INSTRUCTIONS
1. The preparing activity must complete blocks 1, 2, 3, and 8. In block 1, both the document number and revision
letter should be given.
2. The submitter of this form must complete blocks 4, 5, and 7.
3. The preparing activity must provide a reply within 30 days from receipt of the form.
NOTE: This form may not be used to request copies of documents, nor to request waivers, or clarification of
requirements on current contracts. Comments submitted on this form do not constitute or imply authorization to
waive any portion of the referenced document(s) or to amend contractual requirements.
1. DOCUMENT NUMBER
2. DOCUMENT DATE (YYMMDD)
I RECOMMEND A CHANGE:
MIL-DTL-62462D(AT)
980930
3. DOCUMENT TITLE
ENGINE, DIESEL, LIQUID-COOLED, 8 CYLINDER; 4 CYCLE, V-TYPE, 220 KW (295 HP)
4. NATURE OF CHANGE (Identify paragraph number and include proposed rewrite, if possible. Attach extra sheets as needed.)
5. REASON FOR RECOMMENDATION
6. SUBMITTER
a. NAME (Last, First, Middle Initial)
b. ORGANIZATION
c. ADDRESS (Include Zip Code)
d. TELEPHONE (Include Area Code) 7. DATE SUBMITTED
(1) Commercial
(YYMMDD)
(2) AUTOVON
(If applicable)
8. PREPARING ACTIVITY
a. NAME
b. TELEPHONE (Include Area Code)
(1) Commercial
(2) AUTOVON
(810) 574-8745
786-8745
IF YOU DO NOT RECEIVE A REPLY WITHIN 45 DAYS, CONTACT:
c. ADDRESS (Include Zip Code)
Defense Quality and Standardization Office
Commander
5203 Leesburg Pike, Suite 1403
U.S. Army Tank-automotive and Armaments Command
Falls Church, VA 22041-3466
ATTN: AMSTA-TR-E/BLUE
Telephone (703) 756-2340
AUTOVON 289-2340
Warren, MI 48397-5000
DD Form 1426, OCT 89
Previous editions are obsolete.
198/290
For Parts Inquires submit RFQ to
Parts Hangar, Inc.
© Copyright 2015 Integrated Publishing, Inc.
A Service Disabled Veteran Owned Small Business