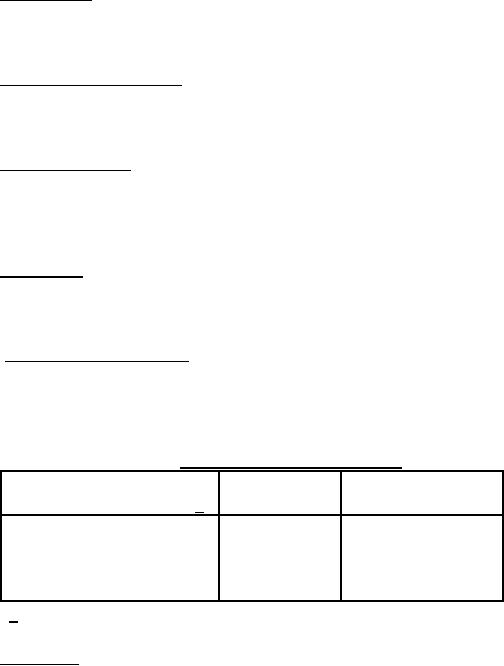 MIL-DTL-62483A(AT)
3.3.4 Air pollution. The engine shall comply with the EPA regulations governing control
of air pollution from new motor vehicles and new motor vehicle engines in effect on the date of
award of contract (see 4.2.3.3 1).
3.3.5 Submersion requirements. The engine and all accessories with intake and exhaust
ducted to the atmosphere, shall start and operate while submerged in fresh and salt water
(see 4.2.3.4).
3.3.6 Grades and slopes. The engine shall perform as specified with the oil at "full" and
"add" levels when inclined in either direction, 60 percent (%) longitudinally or 30% laterally, or
any combination thereof. During an operating period of 30 minutes there shall be no evidence of
faulty lubrication, cooling, fuel supply, leakage, or other malfunction (see 4.2.3.5).
3.3.7 Thermostat. The engine shall be equipped with a thermostat which shall function to
provide rapid warm-up of the engine. The thermostat characteristics shall be based on the use of
solutions conforming to coolants specified herein (see 4.2.3.6).
3.3.8. Engine lubrication system. The engine lubrication system, equipped with suitable
oil filters, shall be capable of satisfactory operation under intended service, operating, and
performance requirements specified herein when serviced with seasonal grades of oil (see 4.2.3.7).
Typically, the engine shall be serviced with the following products listed in table I.
TABLE I. Service products specifications.
Ambient air temperature
°F
(°C) 1/
Viscosity
Specification
-65 to 0
(-54 to -17) Arctic
MIL-L-46167
-10 to +40
(-23 to 4)
10W
MIL-PRF-2104
0 to 120
(-17 to 49)
15/40W
MIL-PRF-2104
+15 to 120
(-9 to 49)
30W
MIL-PRF-2104
1/ °F (°C) = Fahrenheit (Celsius)
3.3.9 Air cleaner. The air cleaner shall have an efficiency equal to the manufacturer's best
commercial system and adequate capacity to hold and remove contaminants under all
environmental conditions. Based on the rated engine airflow, the contractor shall select one of
the air cleaner assemblies in accordance with Drawing 11604557 [550 cubic feet per minute
(ft3/min)(15.6 cubic meters per minute (m3/min))], or Drawing 11604558 [800 ft3 /min
(22.7 m3/min)] or Drawing 11604610 [675 ft3/min (19.1 m3/min)] (see 4.2.3.8).
5
For Parts Inquires submit RFQ to
Parts Hangar, Inc.
© Copyright 2015 Integrated Publishing, Inc.
A Service Disabled Veteran Owned Small Business