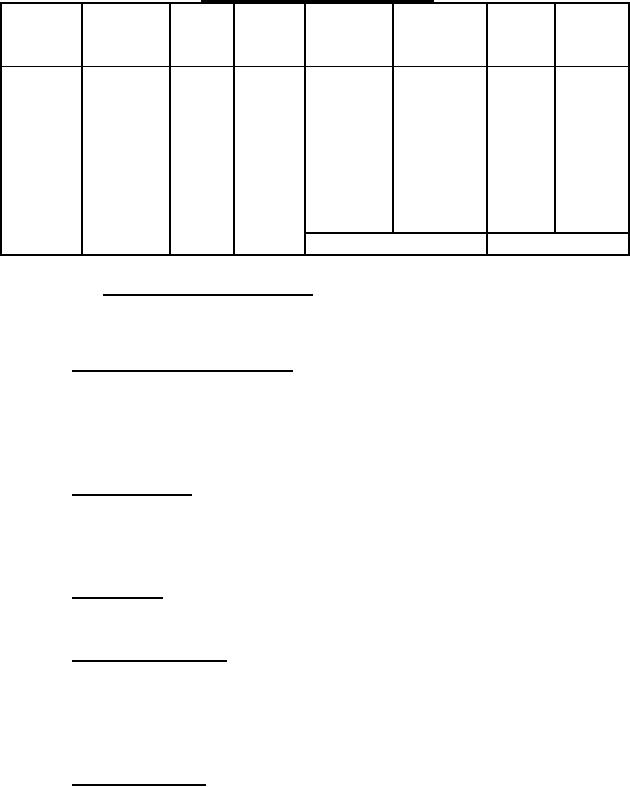 MIL-DTL-62177E
TABLE VII. First article endurance test cycle - Continued.
Period
Period
Period
length
Gross
Period
length
Gross
number
(minutes)
hp
rpm
number
(minutes)
hp
rpm
38
5
300
1600
84
5
Idle
39
5
Idle
85
15
300
1600
40
30
750
2400
86
5
Idle
41
5
460
1800
87
70
750
2400
42
60
750
2400
88
5
Idle
43
5
Idle
89
5
200
1400
44
5
Stop
90
30
Idle
45
5
300
1600
91
Stop
0
0
46
5
Idle
20.5 hours
4.6.4.1.2.1 NATO endurance test results. During the NATO standard engine test
AC/225 (panel II) D 131 (part II), the engine performance and other characteristics (parameters)
shall be measured/calculated and monitored as follows:
a. Pre- and post-test performance. Before and after the test, and at the end of each
100 hour period, a full power setting corrected performance test curve
(see figure 1 for a sample) shall be plotted from measurements taken at a
minimum of seven speed settings in descending order, the first setting being at the
rated speed. The speeds to be run include 1200, 1400, 1600, 1800, 2000, 2200
and 2400 rpm.
b. Oil consumption. The quantity of oil in the engine shall be checked with the
engine dipstick at the idle period of each 5-hour cycle and oil shall be added to
reach full mark on dipstick. Quantity of oil added shall be recorded. Brake
specific oil consumption shall be calculated every 50 hours based on oil used and
average horsepower hours run.
c. Fuel leakage. At the conclusion of each 100-hour test period, the engine cooling
fans shall be removed and fuel injection lines, nozzles, pumps, etc. shall be
visually inspected for defects and fuel and oil leaks, and the results recorded.
d. Engine output checks. At the conclusion of each 100 hour test period, the engine
shall be operated at 2400 rpm full power setting. The fuel flow shall be checked
and adjusted within 2 pounds per hour (lb/hr) (0.907 kg/hr) of that observed for
the pre-test performance test specified in 4.6.4.1.2.1.a. The details of any
adjustments made shall be recorded. Then the engine output shall be calculated
and recorded.
e. Engine parameters. The following engine parameters shall be monitored at the
end of period numbers 2, 4, 5, and 6 of the test except as noted:
1. Engine speed, rpm.
2. Engine load, torque, lb-ft.
3. Intake manifold pressure, in. of Hg.
20
For Parts Inquires submit RFQ to
Parts Hangar, Inc.
© Copyright 2015 Integrated Publishing, Inc.
A Service Disabled Veteran Owned Small Business