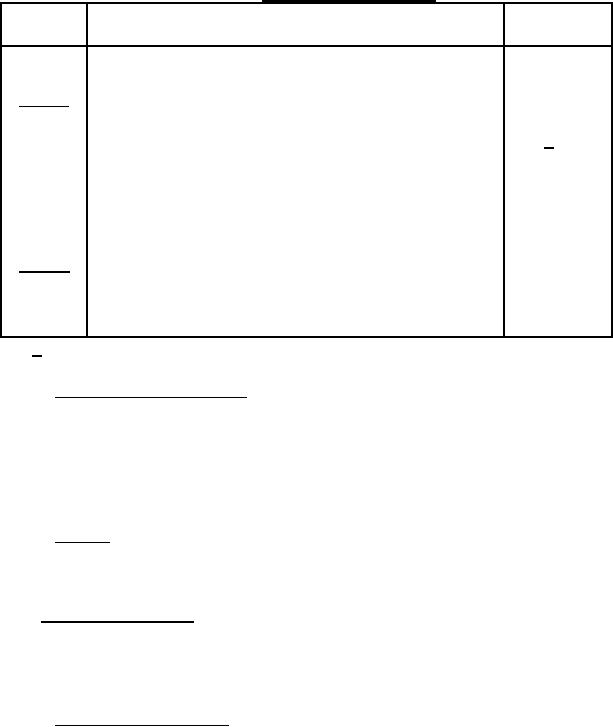 MIL-DTL-62177E
TABLE V. Classification of defects.
Method of
Category
Defect
examination
Critical
None
Major:
101
Assembly, incomplete (see 3.2.1).
Visual
102
Dimensions affecting interchangeability (see 3.2.1).
SIE 1/
103
Leakage, excessive (see 3.3.3 and 6.4).
Visual
104
Linkage, improperly adjusted (see 3.4.1).
Visual
105
Identification marking, improper (see 3.5.2 and 3.5.3).
Visual
106
Faulty workmanship affecting performance (see 3.5.4).
Visual
Minor:
201
Dimensions not affecting interchangeability (see 3.2.1). SIE
202
Paint, improper application (see 3.2.4).
Visual
203
Faulty workmanship affecting appearance (see 3.5.4).
Visual
1/ SIE = Standard Inspection Equipment
4.5.1 Materials and construction. Conformance to 3.2, 3.2.1, 3.2.3, 3.2.4, 3.4.1, and
3.4.3 shall be determined by inspection of contractor records providing proof or certification that
design, construction, processing, and materials conform to requirements. Applicable records
shall include drawings, specifications, design data, receiving inspection records, processing and
quality control standards, vendor catalogs and certifications, industry standards, test reports, and
rating data.
4.5.2 Defects. Conformance to 3.2.1, 3.2.4, 3.3.3, 3.4.1, 3.4.4, 3.5.2 through 3.5.4 and
4.4.2 shall be determined by examination for the defects listed in table V. Examination shall be
visual, tactile, or by measurement with standard inspection equipment (SIE).
4.6 Verification methods. The types of verification methods included in this section are
visual, inspection, measurement, sample tests, full-scale demonstration tests, simulation,
modeling, engineering evaluation, component properties analysis, and similarity to previously-
approved or previously-qualified designs.
4.6.1 Verification alternatives. The manufacturer may propose alternative test methods,
techniques, or equipment, including the application of statistical process control, tool control, or
cost-effective sampling procedures, to verify performance. See the contract for alternatives that
replace verifications required by this specification.
12
For Parts Inquires submit RFQ to
Parts Hangar, Inc.
© Copyright 2015 Integrated Publishing, Inc.
A Service Disabled Veteran Owned Small Business